Idaho State Board of Medicine called to investigate Dr. Ryan Cole by medical leaders
Dr. Steven Kohtz and Susie Keller despatched a letter to the board of medicine inquiring…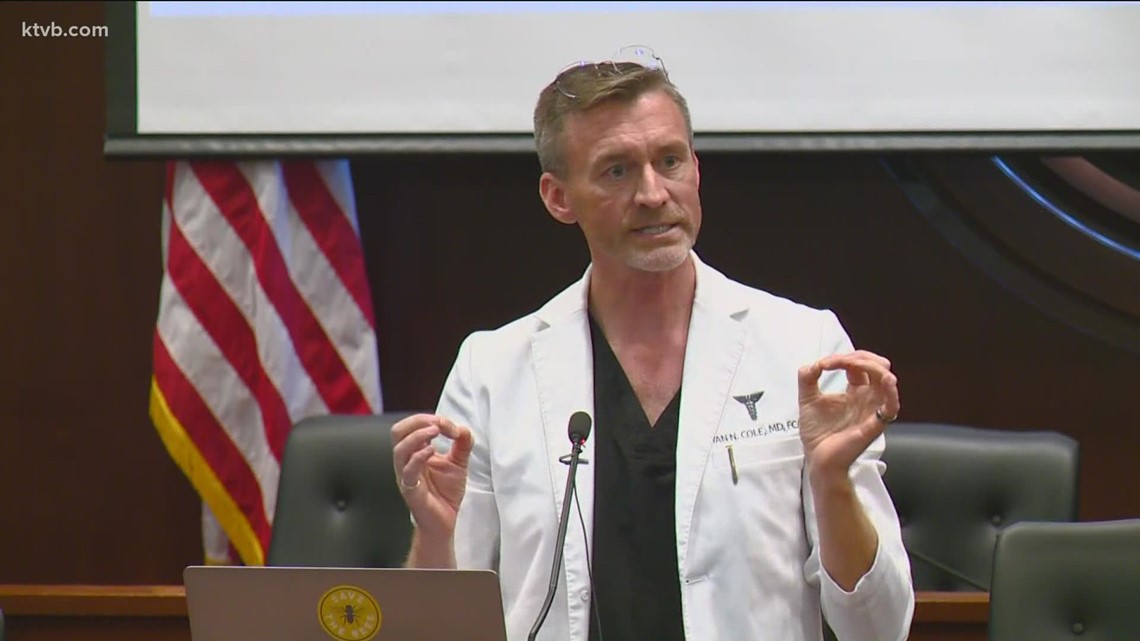 Dr. Steven Kohtz and Susie Keller despatched a letter to the board of medicine inquiring for an investigation into Cole's perform.
BOISE, Idaho — Two of Idaho's primary health-related professionals are inquiring the Idaho Board of Drugs to examine Dr. Ryan Cole.
Central District Wellbeing (CDH) ratified the appointment of Cole to the district's Board of Wellness in September. Cole rose to prominence for the duration of the COVID-19 pandemic for his comments about the COVID-19 vaccine and advocacy for unproven treatments for the virus these kinds of as Ivermectin, an anti-parasite that is not approved for dealing with COVID-19.
Dr. Steven Kohtz, the president of the Idaho Professional medical Affiliation Board of Trustees, and Susie Keller, the CEO of the Idaho Medical Affiliation, despatched a letter to the board of drugs asking for an investigation into Cole's claimed refusal "to use accepted and documented professional medical tactics and vaccination and as a substitute prescribing Ivermectin" to treat COVID-19.
Kohtz and Keller issued the pursuing assertion on Cole's conduct:
Dr. Cole has built a lot of general public statements in 2020 and 2021 concerning COVID-19 that are at major odds with normally comprehended health-related cure of COVID-19 and fall short to meet the local community conventional of care. We believe that several of these statements to be profoundly mistaken, unsupported by healthcare investigation and gathered know-how, and dangerous if followed by people or users of the public. A lot of of individuals statements have advocated that people today not be treated properly and undoubtedly have led to and will keep on to direct to weak wellness outcomes as people today are encouraged not to be vaccinated versus COVID-19 or acquire proper remedy for it when these types of treatment could strengthen their overall health. Taken as a complete, Dr. Cole's statements and steps have noticeably threatened the public wellbeing and, in our see, are enormously irresponsible and injurious to the general public.
The two stated the basis for their criticism is not Cole's statements or views. Somewhat, their criticism stems from Cole professing "he has dealt with patients 'from Florida to California'" by prescribing Ivermectin.
Study the entire criticism down below:
&#13
&#13
Kohtz and Keller finished the letter by inquiring to board to investigate Cole's statements to "identify if, in simple fact, he has finished what he says he has carried out" and to choose action if he has.
This does not suggest that Cole is below investigation at this time.
Cole issued a response to the criticism, stating in portion:
I invite users of the IMA, specifically the governing board at the rear of this criticism, to sit down with me to talk about the nature of their issues about my follow of drugs. Submitting a criticism and threatening my license is unprofessional and sows distrust within just the medical local community and with patients in our condition. My mission as a medical doctor is to care for clients. I just take my oath to "do no hurt" very severely. There are many approaches to treatment for clients, and in situations of crisis, as we have skilled in the last year, our profession will have to arrive together to take a look at all techniques we can provide exceptional professional medical treatment.
In early September, Dr. Cole's appointment to the Central District Overall health Board was ratified on a 7-5 vote by the county commissioners in CDH's jurisdiction. Just before then, in March, Dr. Cole was criticized for his views on the condition of the COVID-19 and statements he gave to Idaho lawmakers.
"I am definitely not in the anti-vax camp, and I am worried that these feedback arrived across that way. I have been vaccinated. All of my little ones have been vaccinated," he wrote at the time.
"I'm worried this is far more from our anti-vax colleagues to stoke panic and misinformation instead of science," Dr. Jim Souza, the Chief Medical Officer at St. Luke's Well being Programs, explained of Dr. Cole's statements at the time.
&#13
Join 'The 208' discussion: